Mispwoso Shows: Der Neue Planet / Smokemaster / Grand Mercury
25. Jan 2019 • 19:00

–

22:30

7€ – 10€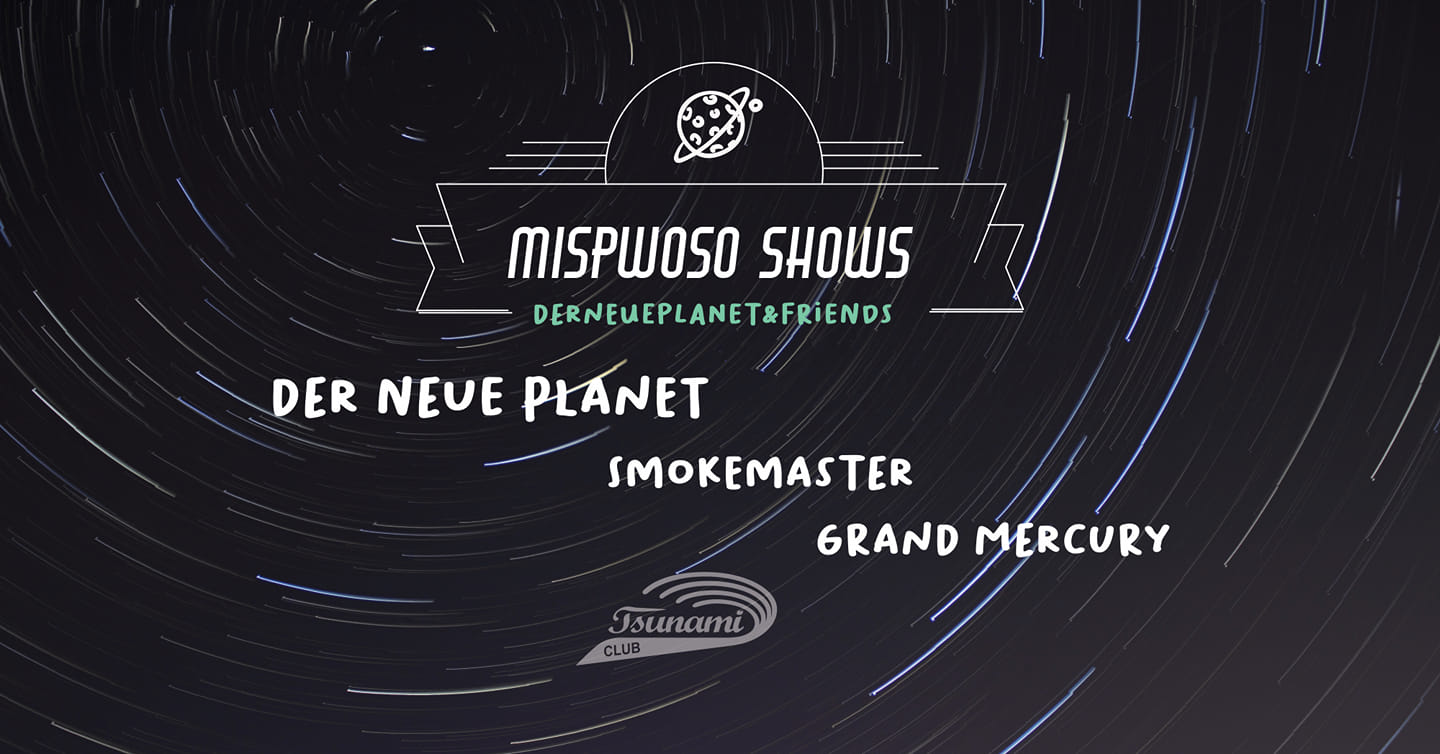 VVK 7€ (Im Underdog-Record-Store, oder über Der Neue Planet: Start nach den Weihnachtsfeiertagen)
AK 10€
Der Neue Planet lädt ein zum ersten Termin der geplanten Reihe "MISPWOSO SHOWS"
Es erwartet euch ein vielfältiger Abend mit folgenden Bands:
DER NEUE PLANET // Köln
Der Neue Planet ist eine instrumentale Rockband aus Köln. Seit 2015 entwickelt die Band ihren eigenständigen Stil, in dem komplexe und progressive Songstrukturen auf sphärische Soundwände treffen. Verträumte Melodien bilden den Kontrast zu drückenden Riffs und vielschichtigen Rhythmen.
Verbindet die Band auf ihrer Demo EP (2016) Stoner und Postrockelemente, so treten auf ihrem Debüt Album "Magrathea Erwacht" (2018) verstärkt progessive und funkige Elemente in den Vordergrund. So ergibt sich eine abwechslungsreiche und dynamisches Mischung, welche gerade live überzeugt.
https://www.facebook.com/derneueplanet
https://derneueplanet.bandcamp.com
SMOKEMASTER
// Köln
Smokemaster ist eine psychedelic Rockband aus Köln. Ihre Musik ist tanzbar und intuitiv.
Sie vereint verschiedene Stile aus dem Spektrum des psychdelic Rock so, dass der Hörer die Möglichkeit bekommt, seinen Alltag für einen Moment zu vergessen. Musikalische Vorbilder:
The Doors, King Gizzard And The Lizzard Wizard, Pink Floyd, Jimi Hendrix, Jefferson Airplane, Wand,
1000Mods, Jacco Gardner, Brian Jonestown Massacre, Tess Parks, Kyuss, Sir Robin And The Longbowmen.
www.smokemaster.rocks
www.facebook.com/smokemasterpsychedelic
GRAND MERCURY // Bielefeld
Grand Mercury suchen ihn, den flüchtigen Moment des Innehaltens. Die Lieder beginnen oft behutsam. Doch schon bald überschlagen sich die Gedanken, die Gitarrenwände türmen sich auf, die Snare wird malträtiert und plötzlich: Stille. Nur um im nächsten Moment wieder loszulegen.
Unter dem Oberbegriff "Progressive Pop" finden sich vielseitige Elemente: Von fragilen Melodien, über Blues- und Soul-Parts, bis hin zu epischen Aufbauten, die wie eine Welle über einen hinweg rollen.
https://www.facebook.com/pg/grandmercury
https://grandmercury.bandcamp.com
Das Konzert auf der Tsunami Club-Website:
https://tsunami-club.de/tc-admin/dashboard/events/
---
Next Gigs
29. Sep • 17:00 – 23:30 at Odonien
31. Oct • 20:00 – 23:30 at Café Maille